Do you have a small screen? Then go to here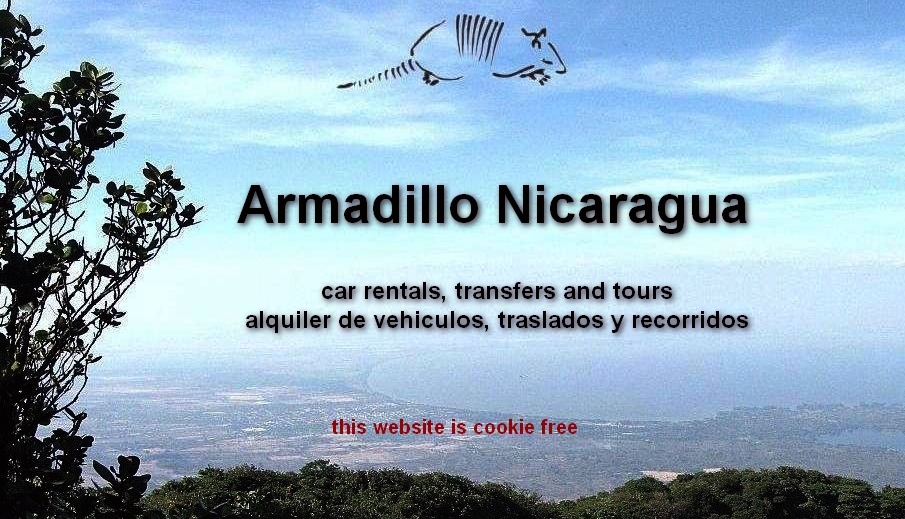 Nicaragua car rental, alquiler de carro, autoverhuur, autovermietung, location de voiture
We are proudly different!
We recommend to
visit us on Facebook
for the latest
Have a look at the reviews
Read about us in the Moon Nicaragua guide and find real reviews on Google.
Our ratings out of 5
Facebook: 5.0
Google: 4.3
(many fake reviews on Google!)

You are never too early to make a reservation
It can be too late though

Filling
Some search strings
(Please ignore)
renting a car in nicaragua
nicaragua car rental
car rental nicaragua
car hire nicaragua
Some highlights:
Dutch-owned and operated by Peter (Petrus) van der Meijs, already more than 15 years
one of the oldest of the local Nicaraguan car rental companies
our reputation is your security
located in the colonial city of Granada, approx. 50km/30mi south of Managua airport
small, flexible, and service oriented organization
full service: rent a car in Nicaragua, transfers, tours, and any combination
convenient transfer services for our car hire clients
delivery and pick up of rental vehicles at Managua airport, Costarican border, etc.
the lowest 4x4, including SUV, hire tariff, and special rental offers
clear communication policy. No surprise charges upon arrival
executive car with driver service
transfers (carried out 24/7!) with a wide spectrum of vehicles and with special offers
of course, we offer a 24/7 Managua airport pick up service.
going to Ometepe? We can make Ometepe ferry reservations for our car rental clients
together with our partners, we cover the most traveled part of Nicaragua for transfers
transfers can be combined with visits to points of your interest (we call them 'transfer tours')
private transfers to/from Costa Rica (e.g. airport Liberia and San José)
also private transfers to/from Honduras (e.g. Tegucigalpa)
rental rates include a full cover insurance and tax
private custom made day tours out of Granada
English speaking tourist guide (minimum 0.5 day) available
equipped for the transport of surfboards
automatic transmission and manual gearbox
we can also make reservations for zip lining, volcano boarding, and wild water rafting
luggage storage when you want to travel light for a few days (e.g. visiting Corn Island)
no overbooking. Your reservation is secure
The down payment can be made in various currencies (down payment refund policy)

NEW:

we can now offer a Honda CR-V automatic 2WD SUV
where our clients come from? Look at this world map
the Police in Nicaragua


For a brief presentation of our fleet of rental cars please click here
or use our (recommended):
Inquiry forms
(see the floating menu on the extreme left)

CONTINUE
Copyright ©2008 Petrus van der Meijs. All rights reserved.
Email: info@armadillo-nicaragua.com
Tel: (+505) 7773-2652

This site is owned and operated by Petrus van der Meijs
Address: Gas station Uno Guapinol 4 blks north 1.5 blk west Granada - Nicaragua
(Office location on Google Maps)
car rental nicaragua car rental